About us
... Over the years Esthetic Dental made teeth and various dental treatments for thousands of satisfied patients
6+6 reasons for choosing us
1
Nearly 30 years
Our dental team of experts has been serving patients from all over Europe, successfully since more than 5 years. We have treated more than 3.500 patients to their satisfaction.
2
Recognised professionalism
Our long-term success is attributed mostly to our experienced, highly qualified dentists, dental laboratory technicians and assistants.
3
Western European Standards and quality
We never stop developing our consulting-rooms and laboratories and use the latest and most advanced technologies, techniques and materials.
4
International experience
Both our dentists and assistants can speak German and English fluently, furthermore, if necessary, we provide interpreters in Italian and Russian languages during the treatment.
5
Dental laboratory
One of our strong points is our dental laboratory in house, which not only contributes to guaranteeing competitive prices but also to short deadlines.
6
Flexible working
Our dentists and laboratory technicians closely cooperate with the patients from choosing the right color to the smallest detail.
7
Insurance
We provide a detailed treatment- and cost plan, this way you wont have any trouble with the insurer.
8
2-5 year guarantee
On our dental prosthesis and complex dental treatments we give 2-3-5 year full guarantee.
9
Good price
We provide our treatments to our patients for a much lower price than in western europe or in Budapest.
10
Holidays during treatment
Garanteed recreation and entertainment in free time - our dentistry is in Hévíz, the acropolis of therapy, wellness and tourism in Hungary.
11
Extra services
We book the accommodation according to the needs of our patients, and we provide transfer during the treatments.
12
Friendly atmosphere
Beside the high professional dedication we also care for the human factor: during treatments we provide a friendly, calm and relaxed atmosphere.
Our dentists
Dr. Szilvia Bodor
dentist
speaks German, English and French
Dr. Szilvia Bodor
2000 - Graduated from the University of Szeged – took a degree in dentistry at the Faculty of Dentistry
from 2009 - got practice in periodontology, oral surgery, opervative dentistry, prosthodontics and paediatric dentistry as clinical dental resident
from 2009 - besides ambulant medical attendance got practice in dental treatments performes in narcosis and inhalation sedation
2009-2011 - performed several presentations as clinic referee about adhesive restauration techniques, mucous membrane mutations and preventive dentistry
from 2007 - regularly took part at special courses and symposiums inland and abroad as well
from 2009 - worked at private praxis besides working at the clinic
from 2010 - took part in preventive programs
from 2011 - member of the Hungarian Dentists' Association of Prosthetic Dentistry and Hungarian Medical Chamber
Dr. Árpád Tatár
dentist
speaks German and English
Dr. Árpád Tatár
2000 - Graduated from the University of Szeged – took a degree in dentistry at the Faculty of Dentistry
2000-2011 - Got practise in conservative dentistry, endodontology, prosthetic dentistry, oral surgery, radiology and implantology as a teacher of the University of Szeged at the Faculty of Dentisry
2003 - Specializied in Oral and dental diseases
2004 - Member of the Hungarian Association of Endodontology
2003 - Specializied in Conservative dentistry and Prosthetic dentistry
2003 - Gave several lectures at dental postgraduate courses mostly on aesthetic dentistry, adhesive restoration and minimal invasive treatments
since 2006 - he is engaged in implantation and takes part regulary in impantology symposiums
since 2003 - he is leading his own private praxis besides teaching at the dental clinic
Our Dental Assistants
Andrea Szabó
asszisztens, dental hygienist
Dóra Pressing
asszisztens, dental hygienist
Dental prosthetics laboratory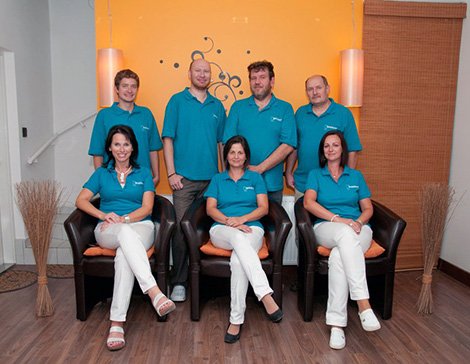 We attach special importance to our dental prosthetics laboratory in only 300m from our dentistry, which not only contributes to affordable prices but also to drastically reducing the length of dental treatments. Our dental technicians can do their tasks in close cooperation with the patient on the spot – from finding the best color of the tooth to the last small corrections.
There are 6 experienced dental technicians working in the laboratory headed by Károly Horváth master craftsman dental technician The dental prosthesises are made in our own laboratory which satisfy the highest demands concerning quality and aesthetics.
Being a dental technician is not just a job, it is a vocation, a challenge. Only continuous training ensures that our colleagues can keep up with the latest technology and materials.